My very first week as a Student Attorney in the Civil Clinic at the University of Nebraska's College of Law, my professor told me I would be co-leading the Clean Slate Project, a program focused on assisting Nebraskans seek a fresh start and improve employment opportunities by cleaning their criminal record of past convictions, as well as charges that did not result in a conviction. "Oh, and there are a couple bills coming up in the next week or so that we might want to testify in support of," he nonchalantly added.
My first reaction—"Does this mean I might get to meet Senator Ernie Chambers?!" My second reaction—resounding dread. The thought of speaking in front of this committee of well-known senators made me feel small, and unqualified to raise my voice.
However, after many hours of researching Nebraska laws, meeting with senators and their staff, writing my testimony, and having my professor review it, I began to feel more knowledgeable and prepared. I was ready to go have my testimony heard.
Some might wonder why a busy third year law student afraid of public speaking might want to take the time and energy to do such a thing. Despite only having been a participant in the Civil Clinic for a few weeks, working as a legal intern at the ACLU of Nebraska for almost two years has taught me the importance of taking action. Taking action with the privilege I possess by being able to pursue a legal degree. Taking action in ways that preserve and protect the liberties and privileges of each individual. Taking action to advocate for underrepresented communities that deserve equality before the law.
Luckily for me, I observe the people at the ACLU of Nebraska act often, and act loud. So I not only received support, advice, and encouragement from my Civil Clinic Professor, Ryan Sullivan, and my Civil Clinic Partner, Josh Waltjer, but also from the attorneys and staff at the ACLU of Nebraska that had shown me the ropes since early on in my law school education.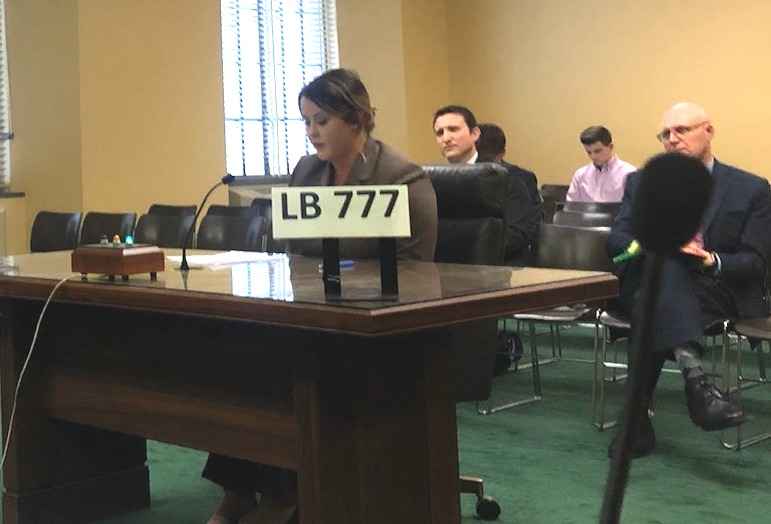 Needless to say, I survived testifying in front the of the Judiciary Committee. I testified, using my First Amendment right, as an act to restore freedoms and privileges to my fellow Nebraskans. I felt proud, in my own small way. And when it was all said and done, I felt one step closer to joining the ranks of the advocates for justice I have had the pleasure to work with at the ACLU of Nebraska.