Ruby Méndez López is the Nebraska artist behind the powerful image accompanying our petition that more than 1,000 Nebraskans have now signed, calling for increased protection for essential workers. She graciously agreed to write about what inspired her art.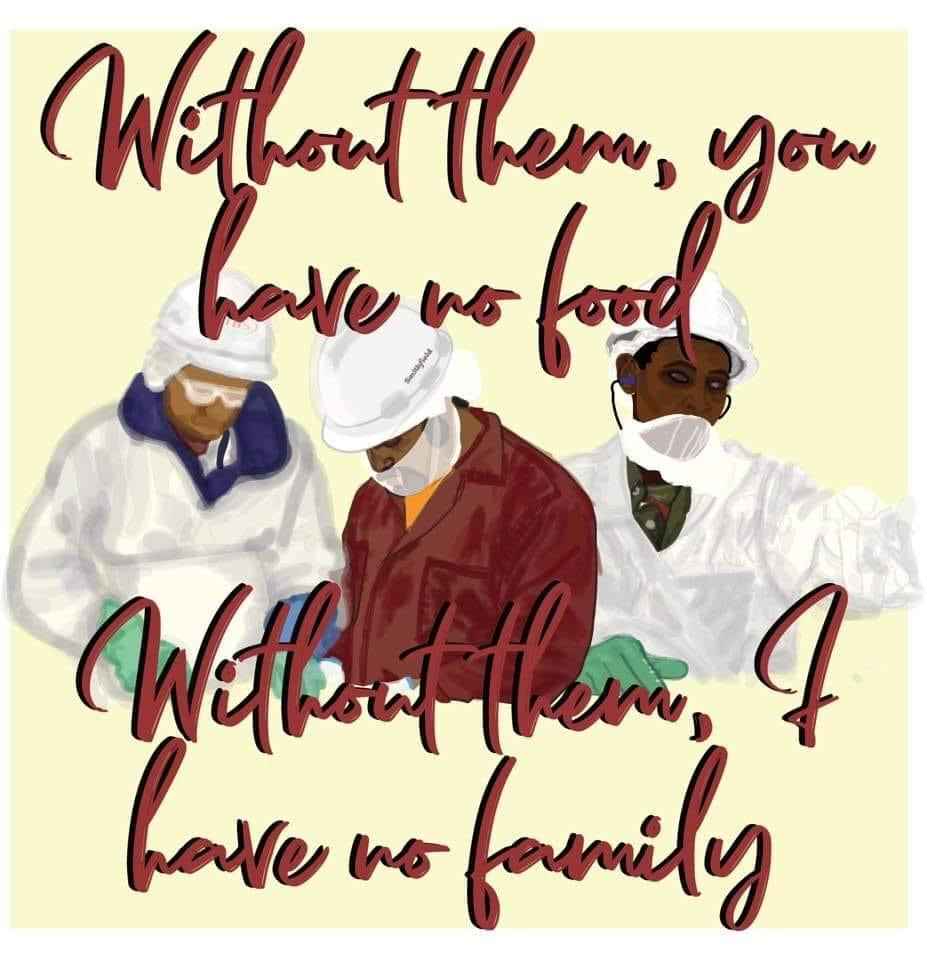 ---
As I entered my fifth week in self-isolation, two hours away from my home community of Crete, the outside world felt further and further from me. Even as I obsessively keep up with the news to understand our new reality and as I see the number of local cases rise, I was becoming desensitized because it's easy to when numbers are all you hear. It gets harder to remember that those numbers are your community.
I'm a first-generation immigrant and most of my community works in packing plants. It's not just my immediate family who works at Crete's Smithfield plant. It's my extended family that works at Lexington's Tyson plant. It's my friends' families who work at Grand Island's JBS plant and Gibbon's Packing Plant.
Every day I am seeing clusters of positive COVID-19 cases pop up in these plants and still my community is going to work. Their work requires them to stand shoulder to shoulder with hundreds of coworkers while the rest of the world is standing six feet apart. I am seeing blatant disregard for my community's health like when my uncle tested positive and his employer still asked his wife, who lived and worked with him, to report to work the next day. She later came back positive, but only after returning to work for a few days and putting hundreds of others at risk.
As each day passed, I felt myself normalizing that my community of essential workers are not being provided the safety measures needed to continue working in a global pandemic. They are expected to show up to work daily when it could cost them their lives. So, I did what I normally do, I called my local representatives to take action, complained to everyone who would listen, drove by packing plants in a new form of protest. Yet, being so far away from my community made me feel like I needed to do more.
So, I began working on a piece to remind myself that these essential workers are my family, my friends and my community. These pieces were made in hopes of reminding me and everyone else around me that if this blatant disregard for an entire community's health continues, not only will we not have food on our tables, but thousands of us will not have families.
A reminder that even when we are inside, there are people risking their lives to put food on our table. A reminder that essential workers are not just those you see every day in your grocery store or hospital. Essential workers are also those we never see but still wake up at 4 A.M. and work 12-hour days, six days a week to keep up with the demands of those of us who are staying home. They are workers who until May 1st were not receiving hazard pay even though they were risking their lives every day.
These workers deserve adequate protection from this virus and clear communication from their management. They deserve to be seen and cared for because they are our parents, our siblings, our cousins, our aunts and uncles, our grandparents and our community.