Just days after ringing in 2021, we announced a successful settlement in a case against the Omaha Police Department that focused on the right to protest. As the year comes to a close, Omahans now have access to a report explaining how police are complying with the agreement's conditions.
The Omaha Police Compliance Report is available online and you can find hard copies at the front desk of Omaha Police Headquarters.
Before getting into what it shows, let's cover a little backstory: The settlement came out of our case challenging OPD's excessive force during the mass arrest of people who were peacefully gathered at a racial justice protest in 2020, part of the national movement sparked by the murder of George Floyd. Our plaintiffs included protest organizers, attendees, a journalist, a legal observer and even two people who were passing by and caught up in the police response.
Instead of letting the case go to trial, the City of Omaha and Omaha Police agreed to a two-year binding agreement that included dismissal of charges against the Omahans police arrested, city ordinance changes passed through the Omaha City Council to better protect First Amendment rights, and strict new rules guiding police conduct at future protests. It also required new annual reports discussing the requirements.
The new report runs 10 pages, explaining training that followed the city ordinance change, directions on the extremely narrow situations in which officers can use chemical agents, and changes made to equipment to make officers more identifiable and theoretically more accountable. Here's an example: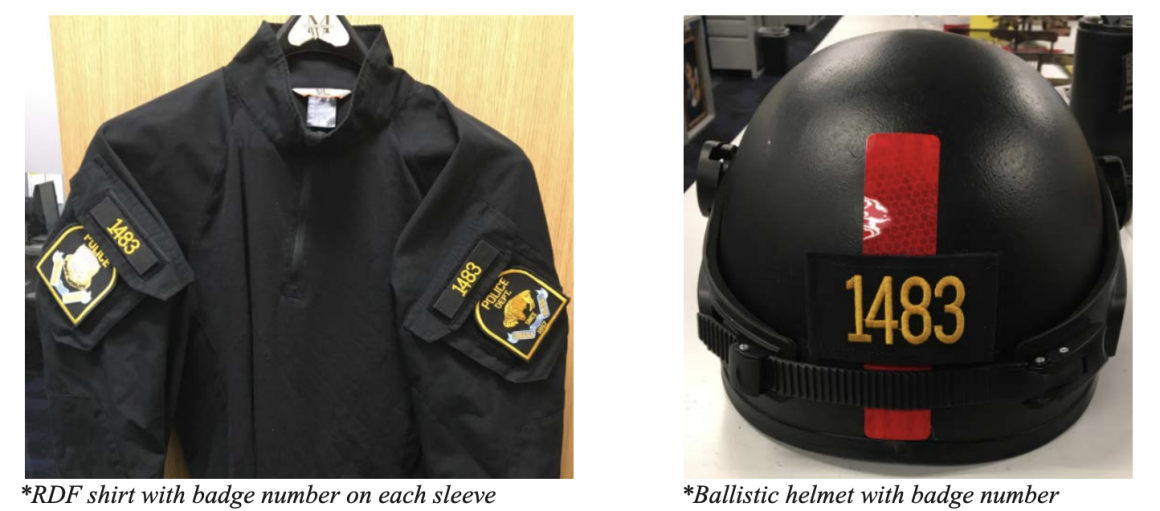 The report covers actions from Jan. 1 through Nov. 30 and doesn't include the pepper ball situation that recently made headlines. We always urge that police de-escalate any situation - not just protests - and encourage anyone at the event with concerns to start by documenting concerns and filing a complaint with the department.
The lawsuit is just one of our efforts to ensure law enforcement officers respect our rights regardless of the color of our skin, our primary language, the content of our speech or the size of our bank accounts. Law enforcement agencies' work frequently intersects with individual liberty interests and civil rights in many different contexts. That's why we must keep working to advance our shared community safety goals and strengthen police accountability through increased community input, transparency and oversight at every opportunity.
In 2021, we advanced police reform and accountability in a number of ways:
We're proud of this progress but more work remains to be done. Persistent and glaring disparities show just how much work we have to do. That's why police accountability and reform will remain a major focus for many years to come.
For more on the ACLU's police work across the country, check out "Reimagining the Role of Police" by ACLU National Executive Director Anthony Romero.