GayLynn Brummett and her husband, Jay, wanted to be parents. They got married in 1989 and one year later learned that GayLynn was living with HIV. They decided that the best way to grow their family was to become foster parents. They had their first child placed with them in 1991 and in 1992, a young boy was placed with them. After the boy's parents relinquished parental rights, the Brummett's decided they wanted to give this young boy a forever home.
The State of Nebraska, learning of GayLynn's HIV status, decided to tear this family appart. Even though the boy had been with the Brummett's since he was three months old, the State of Nebraska relied upon junk science and fear to say that this would be an unfit home for the boy. In 1995, the couple filed suit against the state of Nebraska. It took 12 years, but the couple won. Unfortunately, by the time the case was settled in 2004, GayLynn had died.
In an interview with the Advocate, then Executive Director of the ACLU of Nebraska, Tim Butz remarked that it was the longest case in the ACLU of Nebraska's history. The case was brought to the ACLU's attention by our partners at Nebraska Appleseed who were co-counsel on the lawsuit.
The partnership between ACLU and Appleseed in ending discrimination in our child welfare system continues. Just yesterday ACLU, Appleseed and child welfare advocates joined together to speak against a bill that would allow faith-based agencies to deny placements to loving, qualified families that didn't fit their religoius beliefs.
Turning away a loving home was wrong in 1995. It was wrong when we filed suit against the State of Nebraska's discriminatory foster care policies in 2013. And it would be wrong to allow loving families to be turned away by passing LB975 today.
Sign our Equality Agenda petition to say that discirmination has no place in Nebraska.
---

2016 is the 50th anniversary of the ACLU of Nebraska. We will feature several memories from our five decades of defending freedom in the Cornhusker state here. Do you have a favorite memory? Share it with us!
Date
Thursday, February 18, 2016 - 11:45am
Featured image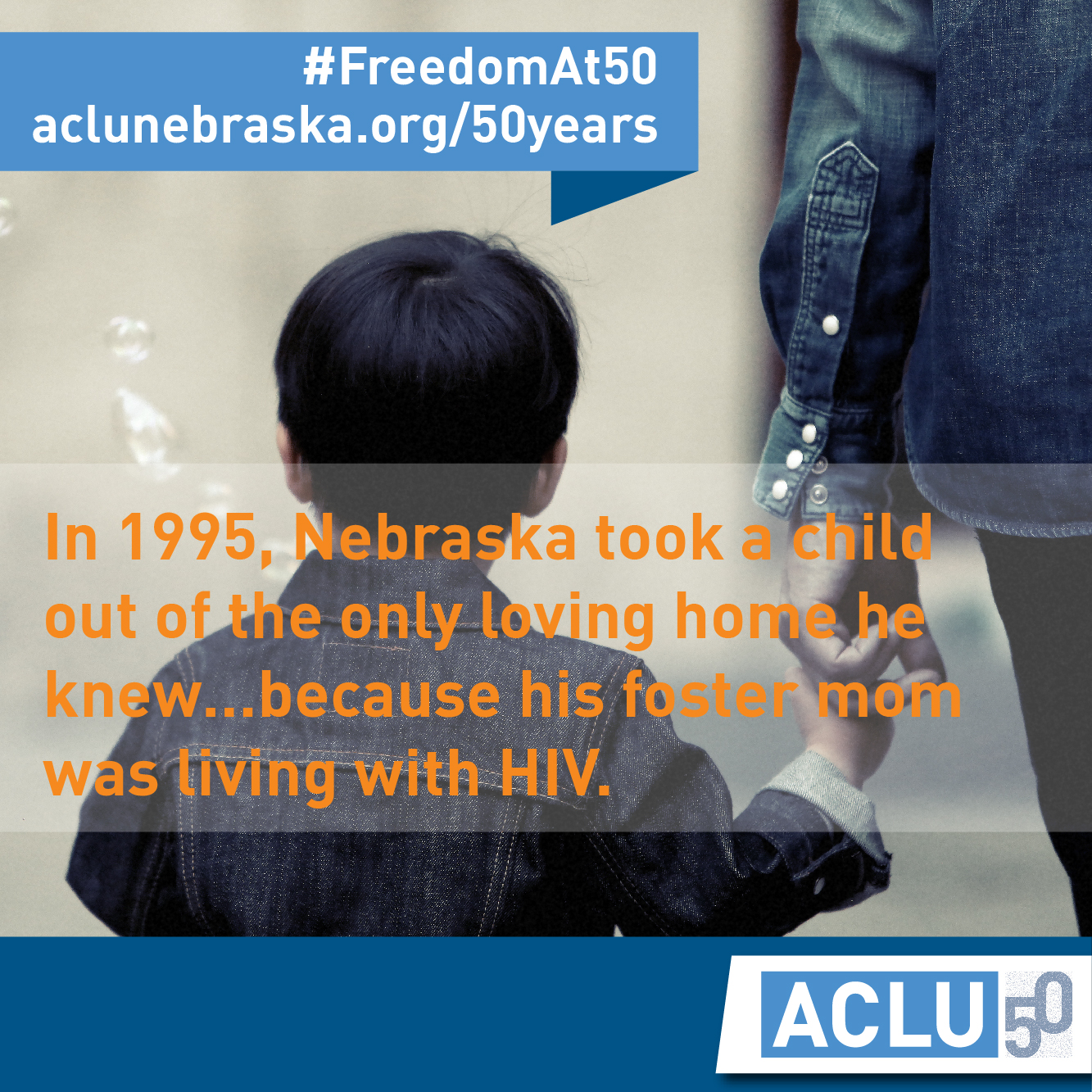 Show featured video/image
Hide banner image
Hide sidebar
Override site-wide featured action/member
Equality Agenda
Tweet Text
Override site-wide featured content
Stewart and Stewart v. Heineman
Related issues
Show related content
Pinned related content
Menu parent dynamic listing